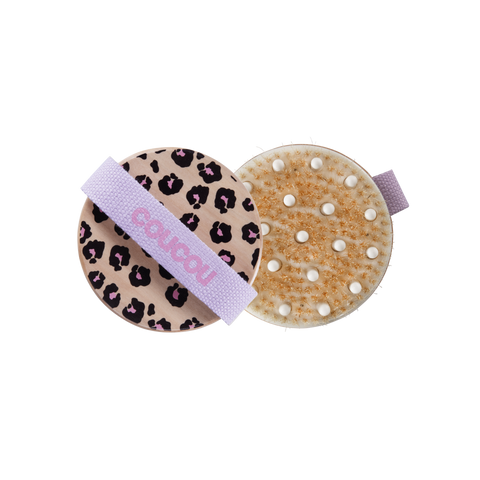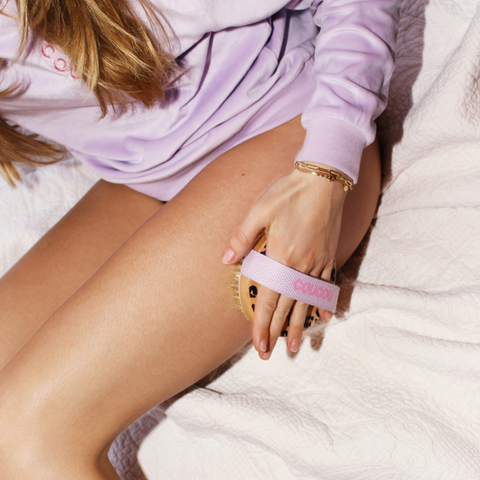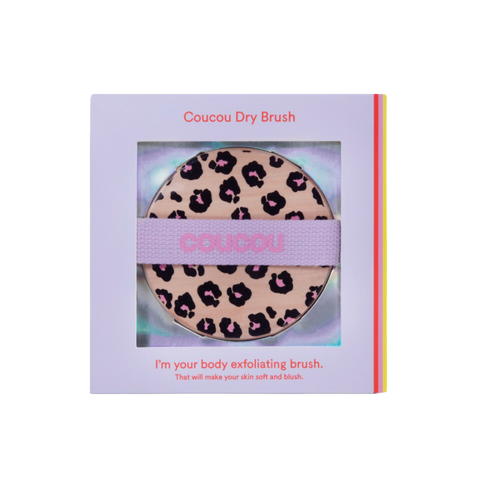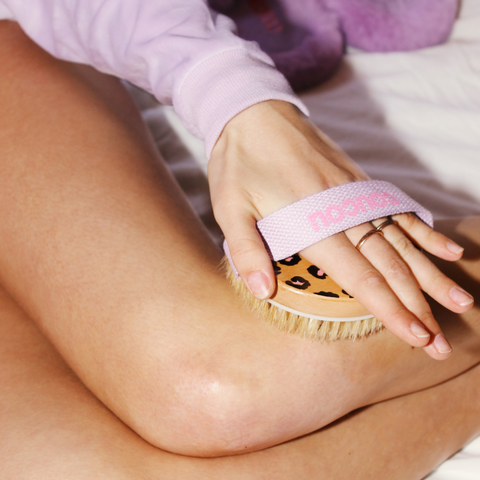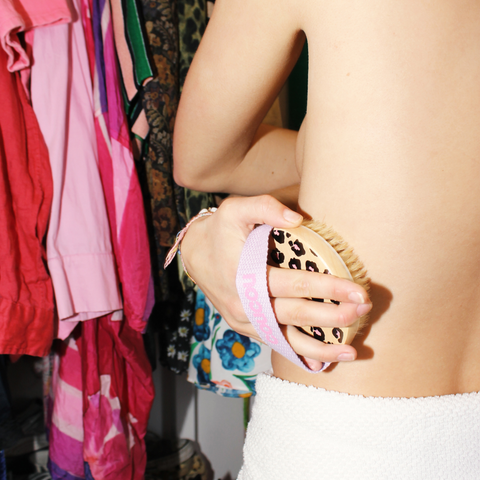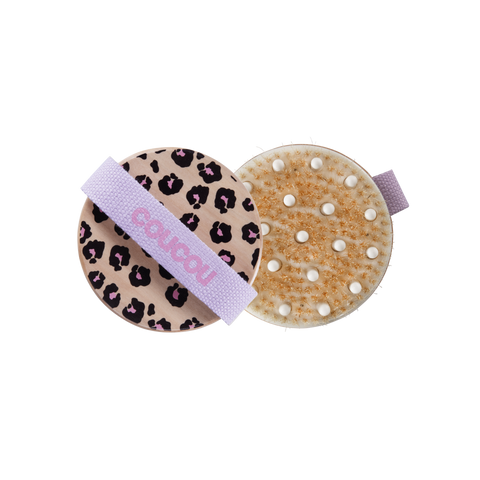 Coucou Dry Brush
A traditional Ayurvedic massaging technique to remove dead skin cells and leave your skin feeling super soft. Brush softly over upper and lower body for the perfect exfoliation and skin detox. 
Loved by celebrities like Miranda Kerr and Rosie Huntington-Whiteley and named one of the biggest TikTok trends of the moment! Suitable throughout the year, extra nice in the run-up to the Summer months. The hardness and firmness of the natural bristles is soft to medium, so it does not scratch the skin and makes it suitable for sensitive skin. We added rubber nodules to the brush to stimulate blood circulation.

Benefits:
Exfoliate dead skin cells to improve penetration of your moisturizer
Treat flaky skin and keratosis pilaris (aka strawberry skin)
Unclog pores and detoxify the skin
Boost blood circulation
Get smoother, softer and brighter skin tone

What's Ayurveda?
In Sanskrit, Ayurveda means 'the science of life'. Ayurveda is a healthy lifestyle that emphasizes good health and prevention and treatment of illness through lifestyle practices. Garshana, (pronounced gar-shun-uh), is an ancient Sanskrit word which translates to 'friction by rubbing. Known as dry brushing, this Ayurvedic practice involves a stimulating massage to exfoliate and refresh your skin and revive the mind.
Full ingredient list
Diameter: 11cm
FSC certified bamboo wood
Natural bristles
Rubber nodules
Use the brush on dry skin, preferably in the morning. We recommend dry brushing before showering, as it will lift up dead skin cells that you can wash
off in the shower right after. Perform treatment for about 5 minutes daily (if your skin is used to it), twice weekly or whenever you feel like it. Always brush upward towards the heart. Use firm, small strokes, or work in circular motions. Apply slightly firm pressure, but don't press too hard. Comes with step by step instruction card.

Calves: Starting at your ankle, brush from the front and back of your leg up towards your knees.
Front of the Legs & Thighs: Starting at your knee, brush upwards along the inner, outer and upper thighs.
Back of the Legs & Bum: Place the tool above the knee cavity and make up and sideward strokes towards the hips and lower back area.
Stomach: Brush with upward strokes or circular motions over your stomach area. Don't brush over breasts (for women) or nipples.
Shoulders & Arms: Start at your wrist and make gentle strokes upwards along the lower and upper arms and shoulders.

Clean & Store:
After each use, tap to remove dead skin debris. Hand wash the bristles from time to time in warm soapy water (do not wet the wood) and air dry with bristles facing down.

Pre-cautions:
Do not use on injured or irritated skin, skin with active acne, blemishes, broken veins and moles, warts or bruises. Work around these areas to treat the surrounding skin. Do not use on your face and neck.
Pick Up today
Email us to schedule pick up after check-out. Location: Amsterdam.
Free shipping in
Your location
on orders over €
HOLA
NI HAO
JAMBO
KONNICHIWA
HI
MERHABA
NAMASTE
COUCOU
ZDRAVSTVUJ
HALLO
HOWZIT
G'DAY
HALLA
HOLA
NI HAO
JAMBO
KONNICHIWA
HI
MERHABA
NAMASTE
COUCOU
ZDRAVSTVUJ
HALLO
HOWZIT
G'DAY
HALLA
HOLA
NI HAO
JAMBO
KONNICHIWA
HI
MERHABA
NAMASTE
COUCOU
ZDRAVSTVUJ
HALLO
HOWZIT
G'DAY
HALLA
Drop your email now and get 10% OFF your next order!