Why Cupping is your new favorite at-home treatment.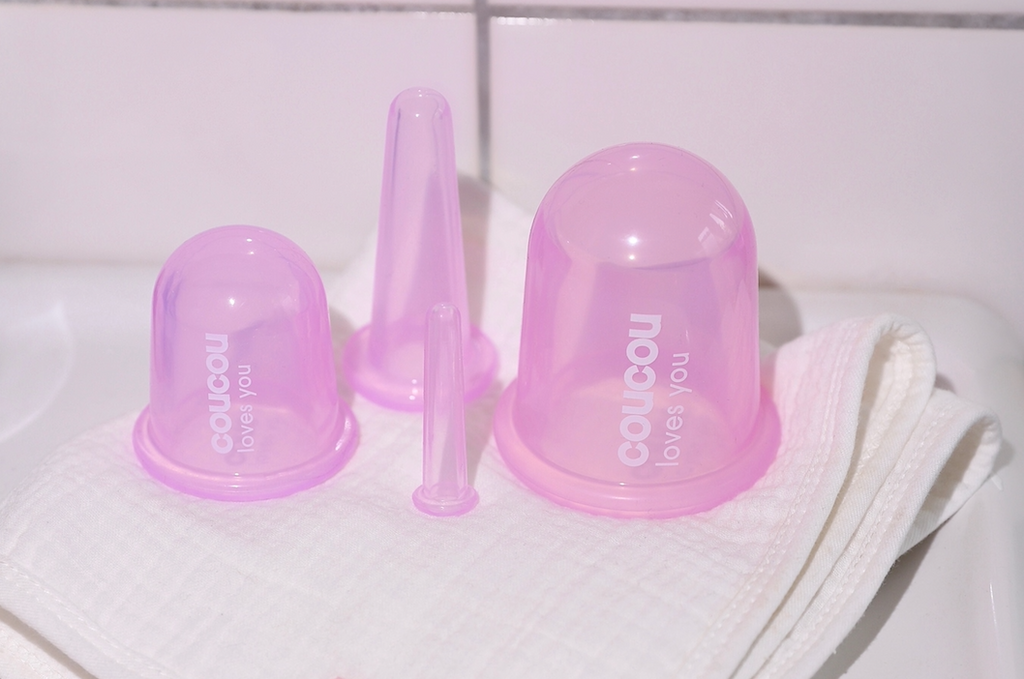 MEET YOUR SKIN DETOX IN A CUP:
The Coucou Cupping Kit. And trust us, this is a tool that will stick around. 
The Coucou Cupping Kit contains two body and two face cups, that are easily implemented in your daily routine and can be used both inside and outside the shower. Now you might be thinking, that's all very nice, but what is cupping exactly? Glad you asked. In short, cupping is an ancient Chinese and Egyptian medical practice that dates back as early as 3000 BCE. It combines traditional massage and suction therapy to improve your overall skin appearance. With cupping, suction cups are placed on different parts on the body and create little vacuums that stimulate skin muscles and blood flow. Now, vacuum and suction might not sound like a relaxing at-home spa treatment, but keep reading and find out why you're missing out if you don't cup!

Let's break it down, from head to toe: 
To say cupping has benefits is an understatement. 
The general benefits of cupping are that it boosts blood circulation, it improves and smoothes out uneven skin tone and texture, stimulates collagen production, oxygenates the skin, activates skin cell renewal and lifts and sculpts face and body muscles.
Grey and dull-looking skin often comes from a lack of blood circulation and stimulation. This causes toxins to accumulate within the skin. Cupping stimulates blood circulation and oxygenates, which creates a better flow within the skin, freeing it from the toxins and helping nutrients to get to the surface of the skin. This then refreshes the skin, giving it a re-energized look and glowing results.
And as if that's not enough to convince you, here are more specific benefits when cupping face and body;

Face Benefits
- Improves face contours and plumps fine lines
- Depuffs and reduces dark circles

Body Benefits
- Treats cellulite and breaks down fat deposits
- Frees trapped toxins and drains stagnant body fluids

Here are a few tips to prepare you:
If you're a cupping newbie, start light and gradually increase intensity to avoid bruising. If you find that it hurts, the suction may be too intense. Remove the cup and start over and do not squeeze and push the cups down too much.

Temporary redness or very light bruising may occur due to tight connective tissue and an increase in blood flow. To avoid bruising, keep the cups moving in either strokes or zig-zag motions, do not leave the cups on your skin for too long and use enough product to help slide the cups over the skin smoothly. Always remove cups gently, by squeezing them to release. No one wants a hickey, given any other way than it's supposed to ;)

Effects may already be visible in the short term, but we recommend continuous use to get the best results and to maintain them. Note that cupping is more effective when integrated into a healthy lifestyle, so no more eating chocolate more than three times a day... Tough love baby.

Also, remember to drink enough water while cupping to promote the drainage of fluids and toxins.

Let's stick together, here's how: 
Cleanse your face and body first. Apply plenty of serum, oil or moisturizer to help those cups glide over that beautiful face and body of yours. Please don't ever use the cups on dry skin, it hurts.
Cup every other day, morning or evening, for 2-5 minutes. Our Coucou team loves to body-and-face-cup in the shower as this is the perfect way to time-manage your mornings. Apply some shower gel or oil and squeeze, suck and move. For the face, apply your face wash and do this same! Once out of the shower, nourish your body with a good moisturizer just to give a little extra love.
Oh, btw, don't forget to alternate between the two face and body cup sizes to match the treated area and vary between suction intensity to get best results. After use, wash the cups in warm soapy water and let them air dry. Store them in a dry place.
Now that you're all up to speed and a mastered cupping expert, good luck and remember: squeeze, suck and let's get moving! 
*Please note that our cups are made of 100% medical and food grade silicone, are durable, antimicrobial and free of BPA, latex and phthalates. Silicone cups and gliding our gliding cupping kit are not to be mistaken for glass and dry cupping (in which you leave the cups on the skin for several minutes).
HOLA
NI HAO
JAMBO
KONNICHIWA
HI
MERHABA
NAMASTE
COUCOU
ZDRAVSTVUJ
HALLO
HOWZIT
G'DAY
HALLA
HOLA
NI HAO
JAMBO
KONNICHIWA
HI
MERHABA
NAMASTE
COUCOU
ZDRAVSTVUJ
HALLO
HOWZIT
G'DAY
HALLA
HOLA
NI HAO
JAMBO
KONNICHIWA
HI
MERHABA
NAMASTE
COUCOU
ZDRAVSTVUJ
HALLO
HOWZIT
G'DAY
HALLA
Drop your email now and get 10% OFF your next order!