This is the difference between the Coucou Tools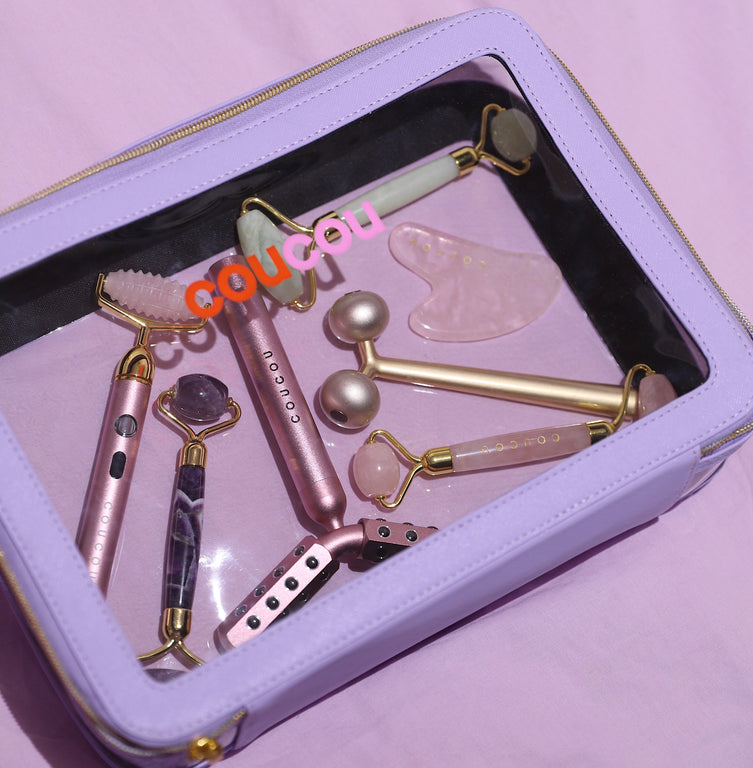 Ready to jump on the Coucou tool train with us?? Let us guide you the way. So many different tools, but what the Coucou is the difference? All the Coucou Tools lined up and broken down in 3,2,1..
First things first. Let's start with the overall benefits of the majority of the Coucou Tools. Each tool is especially developed to target different areas, problems and needs, but they also have 6 benefits in common.

The general benefits of the majority of the Coucou Tools:
1. Boost blood circulation
Massaging the skin with our Coucou Tools, and the natural coldness of most Coucou Tools, improve blood circulation which stimulates lymphatic drainage (the removal of toxins) and oxygen flow.

2. Lift and sculpt face and neck
Use the Coucou Tools as a work-out for your skin to lift and sculpt the face and neck and improve the skin's elasticity.

3. Depuff and reduce dark circles
Massaging the under eye-area depuffs the under-eye bags and reduces dark circles by stimulating lymphatic drainage. A life-save on those tough early mornings!

4. Stimulate collagen production & reduce fine lines
Massaging the skin with our Coucou Tools will stimulate collagen production by massaging the deeper layer of your skin and asking it to reorganize itself and produce new collagen. This will plump fine lines.

5. Get that natural glow
Massaging the skin with our Coucou Tools will make a difference to the texture, tone, and clarity of your complexion, leaving your skin with that desirable natural glow.

6. Enhance the absorption of your product
Use our Coucou Tools direct after application of your favorite serum, oil or moisturizer, as rolling will enhance the absorption of your product (not to forget it simply feels heavenly).



COUCOU JADE, ROSE QUARTZ & AMETHYST ROLLER
Rollin' while scrolling?
The Coucou Rollers are the OG's of the Coucou Family and a staple in our homes (and maybe yours soon?). Perfect for reducing puffiness and dark circles (or last night's mistakes;)). And as they are easy to use, you can roll while you scroll down Instagram or if you prefer binge watching; they're Netflix approved as well. Use the smaller roller for your under-eye and the bigger roller to roll and massage the rest of your face. The Roller is a gentle tool and especially a good fit for those with sensitive skin. These beauties come in three different types of material; pink Rose Quartz, purple Amethyst and green Jade. So depending on the type of spiritual gangster in you and whether you're looking for a little self-love (Rose Quartz), balancing of the mind (Amethyst) or a bit of inner peace (Jade), these OG's got you covered!

COUCOU GUA SHA
Gua Sha has my heart
If you're looking for an even deeper facial massage to reduce facial muscle tension and focus on sculpting your facial contours, this is the tool for you. This very pretty heart-shaped tool has three different sides, each one to target different areas. Use the Gua Sha as a work-out to improve your skin's elasticity and depuff your face. Fun fact: The Coucou Gua Sha is made out of 100% Rose Quartz, perfect to use if your face needs some extra love and looks very cute on your bathroom sink or nightstand.

COUCOU POWER FACE ROLLER
The perfect power house
If you're looking for that next-level tool that will give you a much needed boost, we've got a match. The Coucou Power Face Roller comes with three detachable vibrating heads made out of 100% Rose Quartz (again self-love, as there can never be enough). The sonic vibrations relax the facial muscles, relieve facial tension and enhance blood flow. As it comes with three different heads; a spiked roller, a smooth roller and a round eye roller, it is able to massage the face in three different ways. The spiked roller massages the deeper layer of the skin and can be seen as a hygienic and safer alternative to micro-needling. The smooth roller can be used to cool and soothe the skin after product application to enhance absorption and the round eye roller is especially designed for the eye area. We suggest using the Smooth Roller in the morning and Spiked Roller in the evening (as your skin can turn a little red - which is the blood circulation showing). Add this power house to your beauty routine and it will get you glowing in no time!

COUCOU V-LIFT ROLLER
I'm in love with the (V-)shape of you
The Coucou V-lift Roller is our newest gem and we are totally hooked (literally). This non-invasive V-shaped face tool with cooling dual-ended globes uses century-old kneading techniques to lift, tone, and depuff the facial contours. It will give you firmer and tighter looking skin, just like a natural facelift. Your jaws, cheekbones and brows work hard, exposing our facial expressions each and every day (keep on smilin' babe). They deserve a little bit of extra love, right? Oh and trust us, the V-lift Roller with its gold appearance is very photogenic, just like you.

COUCOU CUPPING KIT
Just your cup of tea
Your pretty faces are our main focus, but let's not forget about that beautiful body! If you're looking for something that can do it all, the Coucou Cupping Kit might just be it for you. The Coucou Cupping Kit comes with 4 cups; two small cups for the face and two larger ones for the body. They use traditional massage and suction therapy to improve and smooth out uneven skin tone and texture. And as if that's not good enough, they also activate skin cell renewal, remove toxins from the skin and treat cellulite! So if you're looking for an all-over improver, look no further. Use with your favorite oil in and out of the shower (we love multitasking).

COUCOU ROSE QUARTZ CLEANSING BRUSH
Your smoooth operator, that leaves your skin hot and fresh
The newest addition to the Coucou tools family and already a fave. With its two sides, the cleansing brush offers the best of both worlds while looking gorgeous on your skincare shelve. One side has super soft bristles with vibrations of over 7.000/minute on which you can put your favourite cleanser and wash away all the worries of your day. The other side is covered with the rose quartz stone that warms up and offers you the heat therapy everyone wishes they could get from home. It makes sure your product is optimally absorbed and that your face tension is reduced. In short: a must-have in your collection.
Found your match? We hope you will love our Coucou Tools as much as we do and if you're still a bit unsure or if you're interested in all of them (which we completely understand), don't hesitate to send us a message. And yes we're open to love letters as well.

COUCOU CRYO SET
We go 'ice ice baby'
The Coucou Cryo Set is the newest (and coldest) addition to the Coucou Beauty tool Family. The Coucou Cryo Roller and Gua Sha are used as an ancient ice-cold cryotherapy to jumpstart your skin's natural processes and benefit blood flow for a more radiant glow.

Did you know around 1700, the Russian empress Catherine the Great applied ice cubes to her face, neck and décolleté every morning to make her skin glow? Nowadays, celebrities like Irina Shayk and Jennifer Aniston are hooked to the effects of this skin icing TikTok trend.

​​The cold temperature of the tools induce vasoconstriction - a reduction or contraction of the blood vessels. This 'activates' the deeper skin layer to produce collagen. After the treatment, the blood vessels open up completely, allowing toxins in the skin to be removed more quickly.

The treatment is very suitable for people who suffer from skin irritation or acne, as the cool temperatures reduce inflammation and calm the skin. The Cryo set also stimulates blood circulation by giving the skin a cold shock, which brings out 'fresher' blood. More blood means more oxygen and a richer supply of nutrients, which flushes out toxins and reduces water retention.

This DIY version of the professional Cryo Facial is now available at the comfort of your own bathroom and includes the Cryo Gua Sha and a Cryo Roller with spikes made from 100% stainless steel: solid, anti-bacterial and naturally cold. The soothing and calming ice-cold touch minimizes the look of enlarged pores and slows down oil production and skin inflammation.

Use the Gua Sha in the morning for the face and the small side of the roller to treat the under-eye area. Use the bigger roller with the spikes in the evening for a deeper massage to stimulate cell renewal without damaging the top layer of the skin. Store it in the fridge for the ultimate ice facial.
HOLA
NI HAO
JAMBO
KONNICHIWA
HI
MERHABA
NAMASTE
COUCOU
ZDRAVSTVUJ
HALLO
HOWZIT
G'DAY
HALLA
HOLA
NI HAO
JAMBO
KONNICHIWA
HI
MERHABA
NAMASTE
COUCOU
ZDRAVSTVUJ
HALLO
HOWZIT
G'DAY
HALLA
HOLA
NI HAO
JAMBO
KONNICHIWA
HI
MERHABA
NAMASTE
COUCOU
ZDRAVSTVUJ
HALLO
HOWZIT
G'DAY
HALLA
Drop your email now and get 10% OFF your next order!