Why and how our Coucou Semi-Cured Gel Nail Wrap will make your life easier.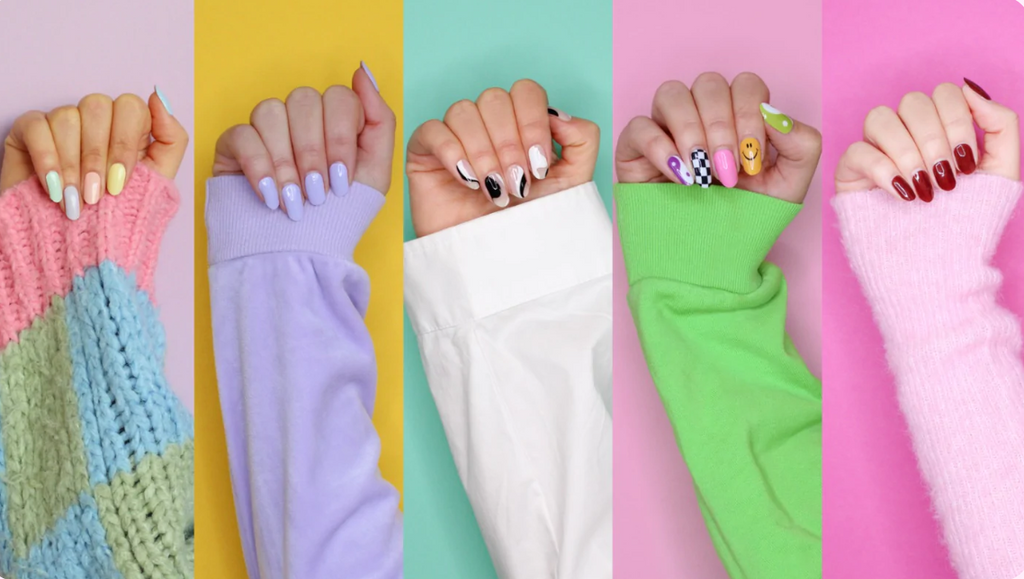 In for an easy and quick way to do your own nails? The recently launched Coucou Semi-Cured Gel Nail Wraps & Coucou Mini LED Lamp will give you a salon-quality gel manicure in the comfort of your own home! Whether you are in the mood for something fun or nude, discover our launch collection of 5 different designs here. Scroll down to discover how to use the Nail Wraps and for some expert tips!


What are Semi-Cured Nail Wraps?
These are not your regular nail stickers! The nail wraps are made of real gel nail polish that are semi-cured for 60%. After application, use the Coucou Mini LED Lamp to cure/ harden the wraps up to a 100%. After 60 seconds, you are ready to go! The Wraps are made out of 3 layers: the base exists of a layer of glue, followed by a layer of real gel nail polish (with of without nail art design), and lastly, a glossy top layer to give your nails a glazed and shiny finish.
The wraps are strong and last for up a minimum of 12 days. They are Cruelty-Free, Vegan and Non-Toxic and easy to remove without damaging the nails. Each package contains 20 wraps, enough for 2 applications. The pink Coucou Mini LED Lamp is pocket-size and easy to take with you on the go. 


How to apply Coucou Semi-Cured Gel Nail Wraps
Follow the step-by-step guide:
1) Wash your hands with soap. Smooth your nails by using a nail file and remove dead skin around the nails
2) Clean nails with an acetone pad to remove any oil, wait for your nails to dry.
3) Choose the right size and peel off the protective film.
4) Place gently on nail without touching the glue side. Leave a little gap from the cuticles and avoid placing wrap on cuticles and nail grooves. You can gently stretch the wrap to fit the width and length of your nail.
5) Press firmly down onto nails and smooth out wrinkles using your fingers. Use the wood stick to apply pressure around the edges.
6) Gently fold the wrap around the end of your nail and remove excess wrap by using the nail file. File the edges in one direction. Make sure the wraps do not exceed nail length.
7) Cure for 60s with our Coucou Mini Led Lamp for a strong manicure.
8) Optional: Add 1 layer of top coat for extra shine and cure for another 60s.
OR CHECK OUT THE HOW TO VIDEO HERE.
 
How to remove Coucou Semi-Cured Nail Wraps
1) Apply acetone around the edges. Wet the stick in acetone and lift the wrap gently and slowly off your nail. Don't pull without acetone to avoid taking off the top layer of nail.
2) Clean the nail with acetone cotton pad to remove any glue residue.
3) Optional: Follow up with cuticle oil.

Coucou's Expert Tips
Some tips to get the most out of our Coucou Semi-Cured Gel Nail Wraps:
1) Do not use nail wraps when your nails are damaged or brittle.
2) Avoid water, lotion and oils after curing nail wraps.
3) Small nails? Get more uses out of each nail wrap by cutting them in half (horizontally). Cut them while still attached to the sheet.
4) Avoid heat as much as possible, it causes the wraps to get weaker.
5) To avoid hair snagging, press down wraps very well with the wooden stick. With a tiny brush or Q-tip, carefully dip into pure acetone and brush along the edges that are lifting up. Use 3 thin layers, let it dry between applying layers. The edges will melt onto your nails and will better seal (again).
6) To avoid hair snagging tip 2, use a top coat layer and cure 60s.
 

Nail designs for every occasion
Meet our 5 designs: Burgundy Bliss, Funky Fantasy, Lilac Love, Pastel Party and Simply Swirly. Created to fit the look and vibe you are going for. Which Coucou Semi-Cured Gel Nail Wrap is your favorite?
HOLA
NI HAO
JAMBO
KONNICHIWA
HI
MERHABA
NAMASTE
COUCOU
ZDRAVSTVUJ
HALLO
HOWZIT
G'DAY
HALLA
HOLA
NI HAO
JAMBO
KONNICHIWA
HI
MERHABA
NAMASTE
COUCOU
ZDRAVSTVUJ
HALLO
HOWZIT
G'DAY
HALLA
HOLA
NI HAO
JAMBO
KONNICHIWA
HI
MERHABA
NAMASTE
COUCOU
ZDRAVSTVUJ
HALLO
HOWZIT
G'DAY
HALLA
Drop your email now and get 10% OFF your next order!