Our Coucou Power Face Roller: Tested & Approved by Grazia!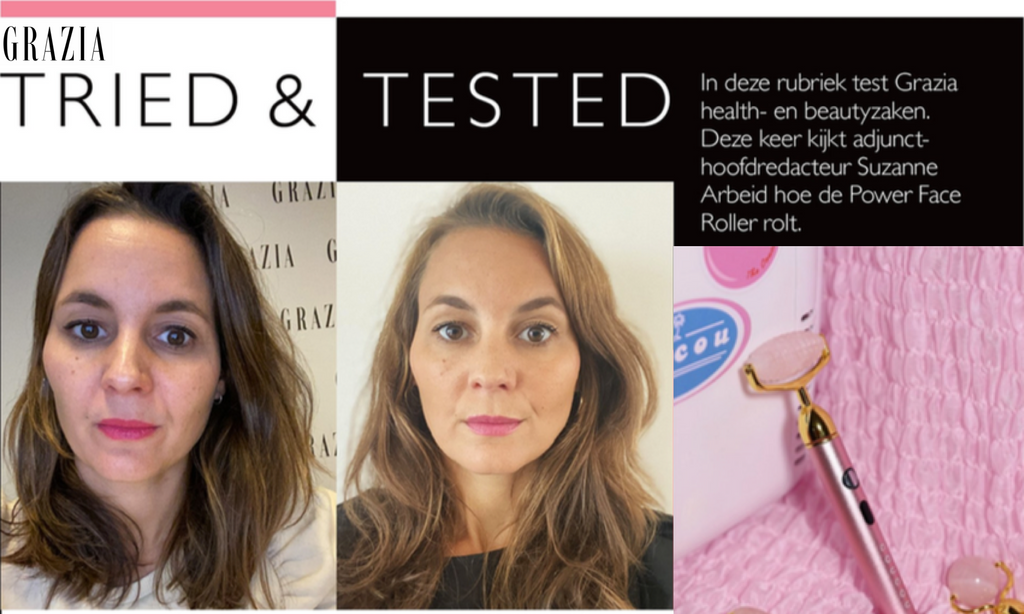 Grazia's Editor in Chief Suzanne Arbeid tested our Coucou Power Face Roller to see if it lives up to the hype. And what do you think? The results speak for themselves. Read more about why Grazia loves it.

Why?
"Pretty much every self-respecting influencer vlogs about getting her weekly connective tissue massage. So often, even the massage therapists have a familiar face (Hello, Agnieszka from Bodyfix!). Women like Victoria Koblenko and Monica Geuze don't hide the fact that this is the secret to keeping their skin in perfect condition! And it shows! I had my first connective tissue massage at the beginning of this year. I was heavily surprised and ended up with a perfect natural glow. However, Covid-19 came around the corner and I was forced to stop the treatments. Till I received the Coucou Power Face Roller in my mailbox."

Function
"They call it the lazy girl skincare hack. And if I hear the word lazy, you've got my attention. The Coucou Power Face Roller from Rose Quartz has three different detachable heads and three vibration levels up to 13.000 vibrations per minute. It has a long list of benefits; improved blood circulation, drainage of toxins, strengthening of the muscles, improved skin elasticity, and skin tone, and last but not least: It gives you that desired natural glow. The Spiked Roller is my favorite because it's intense which means: Instant results. The Rose Quartz spikes massage deep into the skin speeding up the cell renewal process. The Coucou Club calls it 'a holistic and more hygienic alternative to micro-needling'. I call it: Immediate visible results as after only 10 minutes my skin is as red as a tomato from the improved blood circulation. Like I just ran 10 kilometers, but I didn't, because like I said: Lazy. Anyway, it feels like I'm doing something good for my skin, so I repeat it every day. I use the cold Round Roller for my eye area to diminish the bags under my eyes and the Smooth Roller to improve the absorption of my serum. After a few weeks of testing, I notice that my skin has visibly improved. I don't look as tired, my pores have shrunk and my skin looks smoother. And do I spot a glow there?"

So, Does it work?
"Well, yes. I'm pretty excited. Let's say it's not the same as the intense kneading from trained massage therapists, but it does have positive effects on the skin. I carefully placed the Coucou Power Face Roller next to my toothbrush, and don't think it will leave anytime soon! I would be coucou to do that."
HOLA
NI HAO
JAMBO
KONNICHIWA
HI
MERHABA
NAMASTE
COUCOU
ZDRAVSTVUJ
HALLO
HOWZIT
G'DAY
HALLA
HOLA
NI HAO
JAMBO
KONNICHIWA
HI
MERHABA
NAMASTE
COUCOU
ZDRAVSTVUJ
HALLO
HOWZIT
G'DAY
HALLA
HOLA
NI HAO
JAMBO
KONNICHIWA
HI
MERHABA
NAMASTE
COUCOU
ZDRAVSTVUJ
HALLO
HOWZIT
G'DAY
HALLA
Drop your email now and get 10% OFF your next order!