Everything you need to know about the GUA SHA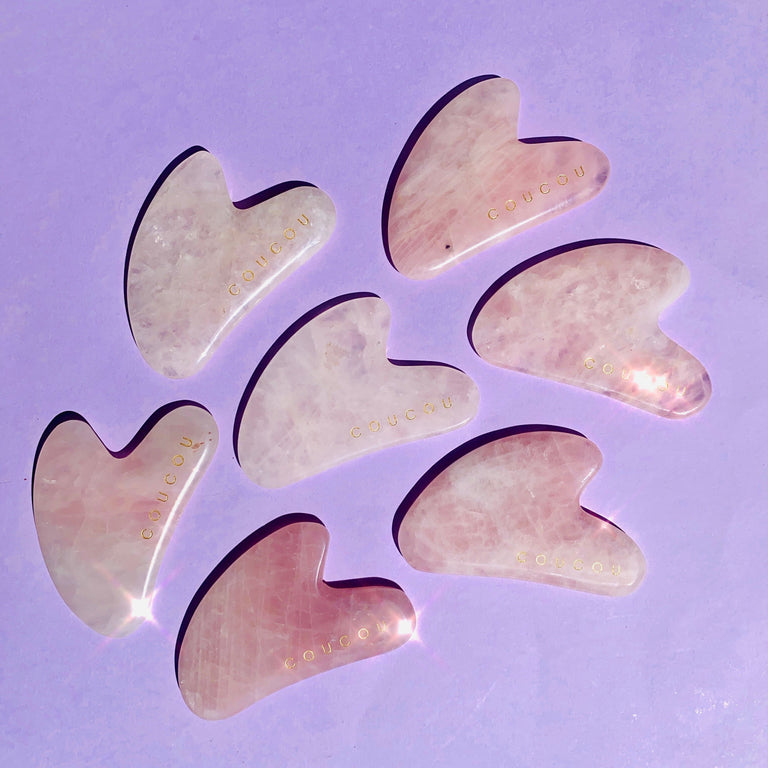 Trying to improve your skincare routine? Eager to follow the current hyped-up beauty trend? Let's spill the (not so secret) beauty secrets… We all know that yoga has been proven to be extremely beneficial to your body, right? Ever heard of Gua Sha? It's your easiest gadget to boost that inner natural beauty and give you your favorite facial at home. Ready to get obsessed?
Sounds fab, but what is it?
The Coucou Gua Sha is made from 100% natural Rose Quartz, which makes it not only beautiful, but also suitable for holistic healing. The Rose Quartz crystal is commonly referred to as the love-stone: it heals and attracts self-love and love for others, raises self-esteem, and restores confidence. It is an ancient Chinese beauty tool, known as the 'scraper', which is an easy and effective addition to your skincare routine. Because of its shape and the scraping technique, this tool provides a deep facial massage that lifts and sculpts your facial muscles. Perfect if your face muscles are feeling tense or stressed! It improves blood circulation which stimulates lymphatic drainage (the removal of toxins) and oxygen flow. The Gua Sha depuffs your face and reduces dark circles, the perfect life-saver on those tough early mornings!

Let's get to it: HOW TO GUA SHA?
It's easy. Implement it into your daily skincare routine and you will see changes within a few weeks. It is your easiest way to a skin detox at home and a facial massage that is going to relax you and boost some self-love.

Before you start: Always cleanse your face first! Coucou's advice is to apply serum, oil or moisturizer before using the Gua Sha. Repeat every stroke 5-10 times on both sides of your face. Another inside tip: end each stroke with a little wiggle to help move lymph.

Forehead. Use the flat side: Start by making smooth strokes from the middle of your eyebrows up to your hairline. Follow with strokes from the center of the forehead outwards towards your temple.

Brows. Use the cured side: gently stroke the area below your eyebrow and above your eyes moving outwards. Stay on the bone of the brow.

Eyes. Use the flat side: slowly and very gently stroke your under-eye areas moving outwards and up towards your temple.
Cheeks & Cheekbone. Use the flat side: start from the center of your face and stroke, applying reasonable pressure, outwards towards your ear. Use the curved side: to work your cheekbone.

Jawline. Use the curved side: start from the center of your chin and work your way up on your jawline towards your earlobe.

Neck. Use the arched side: gently stroke from your jawline down to the middle of your collarbone. Avoid contact with sensitive areas such as the middle of the throat.

Do this Gua Sha-facial daily and we guarantee you will consider this your new beauty and skincare essential!

The difference with a Coucou Roller?
The benefits of the Coucou Gua Sha and Coucou roller have many similarities. The difference between the two is mainly the mode of use and your own preference. The Coucou roller has a handle and a bigger and smaller roller with which you massage and roll the face. The Gua Sha is designed to hold in your hand in different angles while you massage and scrape the skin surface. Want to focus more on sculpting the face and reducing facial tension and swelling? Then the Coucou Gua Sha is your best choice, as in our experience this gives a deeper facial massage. Is your skin more sensitive and want to focus on reducing puffiness and dark circles under the eyes? Then the Coucou Roller is your thing. Either way: both beauty tools are perfect for self care and an at-home skin treatment!
HOLA
NI HAO
JAMBO
KONNICHIWA
HI
MERHABA
NAMASTE
COUCOU
ZDRAVSTVUJ
HALLO
HOWZIT
G'DAY
HALLA
HOLA
NI HAO
JAMBO
KONNICHIWA
HI
MERHABA
NAMASTE
COUCOU
ZDRAVSTVUJ
HALLO
HOWZIT
G'DAY
HALLA
HOLA
NI HAO
JAMBO
KONNICHIWA
HI
MERHABA
NAMASTE
COUCOU
ZDRAVSTVUJ
HALLO
HOWZIT
G'DAY
HALLA
Drop your email now and get 10% OFF your next order!